The problem - A fuel wholesale business that purchases petrol from a refinery must pay purchase tax at the point of purchase and sales tax at the point of sales.

Part of the bookkeeping/accounting process is to capture, report and account for the Net Credit (difference between sales tax and purchase tax).


The company uses QuickBooks to capture all such data, but the Net Credit data is difficult to retrieve and report on from QuickBooks.

Excelitte as a solution:

So, we started with a spreadsheet that looks like the one below to create the foundation for the Fuel Wholesalers Excelitte Application Instance and data can now be added directly into Excelitte from this point.



Benefits of uploading the data into Excelitte include. All data was now stored in a database which makes it a lot harder to steal or to lose or even to ransom the data (cyberattacked). The data is no longer stored in an xls, csv, or word document format, its location is now more complex to determine or find, the data is also now automatically backed up and sent to the user weekly.

As a customised solution or feature, we can add three-factor authentication such as fingerprint or face recognition and two/three-factor authentication to protect your data even further.

We can also build any customized screens, functions, or features required within 2 to 12 weeks depending on its complexity.

We uploaded the data into Excelitte and derived several benefits in about 2 mins.

We uploaded the above Excel spreadsheet into Excelitte by dragging & dropping the spreadsheet above from its location after logging into Excelitte to now get the next image.



We now got to this next point in Excelitte…….



We now created a chart of sales tax vs purchase tax (aka tax paid) vs net credit plotted across a timeline to interpret trends & patterns.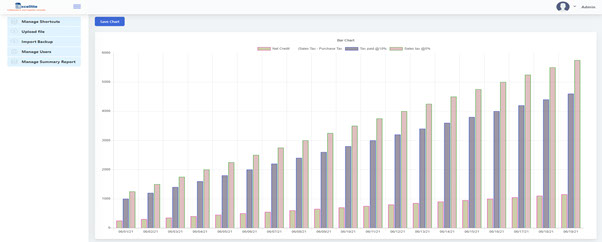 We now generated a 2D animated report highlighting Net Credit & its Totals by date.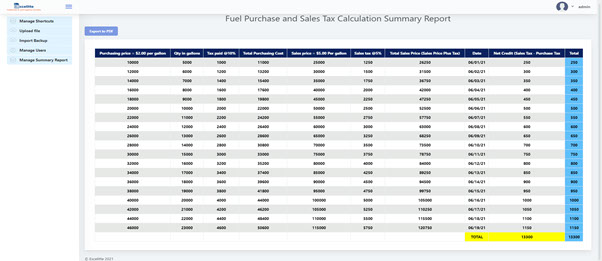 Start a Free Trial of Excelitte today with no obligation to purchase